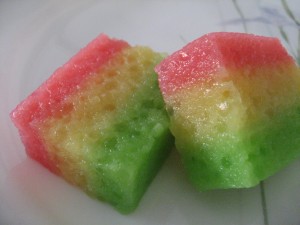 Preparation time: 40 mins. + Setting time | Serves 12-16 bars
This Kuih Recipe is a famous dessert in Indonesian and Malaysian cuisine. It is textured like a cake that is layered in multiple colors and cooked over steam. The taste is good and multiple flavors include, coconut, pandan leaves, etc.
Ingredients:
For Syrup:
1½ cup sugar
1 ltr water
3-4 pandan leaves (washed & knotted)
For Batter:
2¼ cup rice flour
¼ cup tapioca flour
1 can coconut milk
Pinch of salt
Pink and green food colors
Procedure:
1. Make syrup first by cooking together sugar, water, and pandan leaves. When the sugar completely dissolved into the water turn off the heat and drains the syrup to remove pandan leaves.
2. When the sugar syrup has been cooled to room temperature, combine all the ingredients together with the syrup and make a smooth batter.
3. Divide the batter into three equal portions, to give them different colors. Add a few drops of green color to one of the portions and mix well. Similarly, add pink color to the other portion and mix well and leaving the third portion as it is.
4. Set your steamer to high, grease your steamer pan, and pour green batter on it. Steam this batter for about 8-10 mins. until it sets completely and would not stick to your hands.
5. Then pour the uncolored batter on the green steamed layer and steam it again for 6-8 mins.
6. In the end make a layer of pink color and cook it on a steamer for 6-8 mins. until it sets nicely.
7. After that remove the pan from the steamer and let it cool completely for 4-5 hrs. then cut it into bars before serving.
photo source : 1