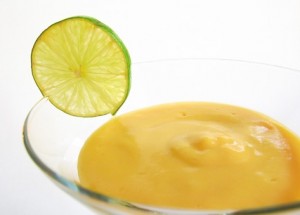 Preparation time : 15 mins. + Refrigeration time | Serves 2-4 persons
This mango dessert recipe is one of a quick frozen dessert for summer. It tastes more like a pudding but it doesn't need to bake you just have to mix the ingredients as mentioned below then refrigerate to set.
Ingredients:
1 cup mango pulp
2 tbsp icing sugar
1 cup whipping cream (chilled)
3 tbsp milk powder
3 tbsp mango jelly mix
Procedure:
1. Beat together chilled cream and icing sugar to make it thick foamy batter.
2. Then add mango jelly mix to it and whisk again.
3. Fold the mixture nicely with mango pulp and then beat for 1-2 mins more to mix well.
4. Now add milk powder and whip again.
5. Pour the prepared batter into the pudding molds or a dish and refrigerate till it sets completely.
photo source : 1