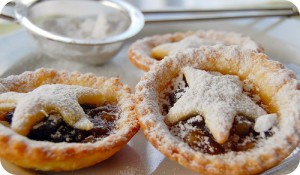 Preparation time : 70 mins. | Serves 8-10 persons
This mincemeat tart is prepared with homemade mincemeat which is quite simple to prepare at home. You may add mixed peel of fruits to make it more rich. Addition of a scoop of ice cream would make it more delicious in taste rather than serve it with cream.
Ingredients:
For Short Crust Pastry:
3½ cup flour
1 tsp salt
2½ tbsp caster sugar
1 cup unsalted butter (chilled and cubed)
¼ cup ice cold water or as required
3 cup homemade mincemeat
For Mincemeat:
4 – 5 large apples (peeled and grated)
1 ½ cup apple juice
¾ cup dark raisins
¾ cup golden raisins
¾ cup currants
¾ cup cranberries
¾ cup mixed candied peel
½ cup dark brown sugar
2 oz unsalted butter
½ tsp ground cinnamon
½ tsp ground allspice
½ tsp ground nutmeg
½ tsp ground cloves
¼ tsp salt
Procedure:
1. To prepare pastry, combine ingredients of pastry in the food processor or dough mixer and process it to prepare mixture like breadcrumbs.
2. Now transfer the processed mixture onto the counter and knead it gently to make smooth soft dough, if necessary add few drops of water.
3. After that refrigerate the dough for 30 mins. by covering it into the plastic sheet.
4. Meanwhile prepare mincemeat filling, for that place all the ingredients of mincemeat in a large pan, and bring to a boil over medium heat, stirring in between. 5. When mixture starts bubbling, reduce the heat to medium-low and simmer for about 25-30 mins. or until the mixture gets thick and dry little bit.
6. Then transfer the mincemeat to a large bowl and let it cool completely.
7. Now take out the pastry dough from fridge and roll it using your rolling pin according to the size of your pie dish, make sure that the thickness of rolled dough is not more than half inch.
8. Place the rolled dough onto the pie dish, make small holes using fork into the pastry shell and bake for just 10 mins. in preheated oven for about 350 degrees F.
9. After that fill the tart with prepared homemade mincemeat and top with butter, using your remaining pastry dough, make different shapes using cookie cutter to cover the tart and then bake for about 45 mins. or until the pastry has lightly browned.
10. Serve the delicious mincemeat tart with ice cream.
photo source : 1