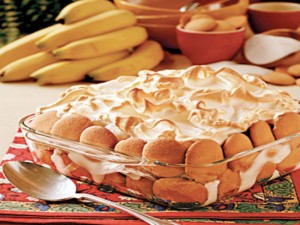 Preparation time : 30 min | Serves 8 persons
This Nilla Banana Pudding recipe is prepared in three steps; in first step vanilla custard is prepared, then make layers of custard, banana slices and Nilla wafers and in the end bake in oven; you might think that it would be the typical dessert to prepare at home but all the three steps of the recipe takes very short time to prepare and finally you will have the tempting Nilla Banana Pudding within 30 min.
Ingredients:
6 large bananas or as required (cut into slices)
NIllas vanilla wafer as required
For Custard:
6½ cup milk
1 tbsp margarine
Dash of salt
7 eggs (5 of them separated)
½ cup self-rising flour
3 tsp heap cornstarch
1 2/3 cup sugar
1 tsp vanilla extract
For Meringue:
5 egg whites
12 tbsp powder sugar
Pinch of cream of tartar


Procedure:
1. To prepare batter for pudding combine 6 cups of the milk, sugar, margarine, & salt in top of double boiler and cook until it gets warm.
2. In a separate bowl mix 5 egg yolks and the 2 whole eggs with flour, cornstarch and ½ cup of milk and then process it in blender till become smooth.
3. Add this blended mixture in double boiler and cook till it gets the consistency like custard. Add vanilla extract in between and keep stirring in between to avoid sticking the batter at the bottom.
4. Take a greased baking dish and using a ladle make a thin layer of prepared custard at the bottom, spread Nillas vanilla wafers over the whole layer of custard and stand more Nillas around the side.
5. Now pour another layer of custard over the wafers and cover it completely with banana slices. Repeat this pattern of layers again and cover with custard in the end.
6. To prepare meringue beat the 5 egg whites until stiff then slowly add 12 tbsp of powder sugar and a pinch of cream of tartar. Cover the pudding with this meringue and bake in preheated oven at 350 degrees F for just 10 min until become light brown from top.
photo source : 1