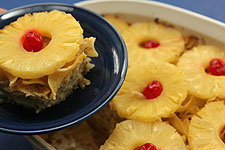 Preparation time : 70 min. | Serves 6 persons
This noodle kugel recipe is prepared with pineapple flavor hence it is also knows as pineapple kugel. The method of preparing this delicious kugel recipe is quite easy and simple so it can be easily prepared at home.
Ingredients:
8 oz wide egg noodles
6 eggs
5 tbsp unsalted butter (melted)
1 cup brown sugar
8 oz crushed pineapple (with juice)
1¼ tsp vanilla extract
1 tsp ground cinnamon
8 oz can whole slice pineapple (drained)
¼ cup candied cherries
Procedure:
1. Boil noodles according to the package instruction.
2. In a mixing bowl beat eggs and butter until well blended.
3. Add sugar, crushed pineapple with juice, vanilla, and cinnamon and mix well.
4. Pour this batter over the noodles and mix them together.
5. Take a greased baking dish and transfer the noodles mixture into the pan, place slices of pineapple on top, put one piece of cherry on each whole of pineapple slice and bake for 40-50 min at 350 degrees F until become golden brown from top.
photo source : 1