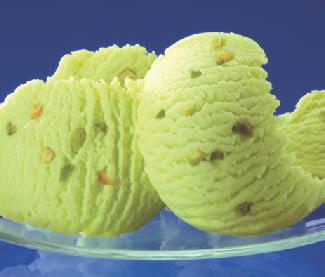 Preparation time : 60 mins. | Serves 4 persons
This recipe of pistachio ice cream is very simple and easy to prepare at home as there is no need to cook the batter first you just have to beat the ingredients together as mentioned below and then pour it in the ice cream maker or freeze it in air tight box. The ice cream prepare by this method will be very soft and smooth as you buy it from any ice cream shop.
Ingredients:
400 gm evaporated milk (chilled)
1 cup condensed milk
600 gm whipped cream
½ cup ground pistachio
Few drops of green color
1 tsp vanilla essence
Crushed pistachio for garnishing
Procedure:
1. In a large mixing bowl, beat evaporated milk until it gets foamy texture.
2. Add condensed milk. Vanilla essence, green color and ground pistachio and beat again until all the ingredients mix well and make smooth batter.
3. After that using flat spatula fold the whipped cream into this batter with light hands.
4. Now you can prepare ice cream by two methods either using ice cream maker or simply freeze this batter in air tight container for 8-10 hrs. If you prepare it in ice cream maker then pour the batter into the freezing bowl and then follow the instructions of your ice cram maker to churn the batter completely, it would take hardy 40 mins. in ice cream maker.
photo source : 1