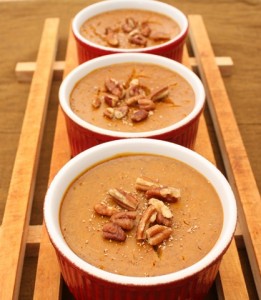 Preparation time : 70 min. + Chill time | Serves 6 custard moulds
This pumpkin custard is actually a poach custard which is prepared in oven, you may also poach it at stove by place it in a deep pan cover with lid. This delicious recipe of custard can also be served with topping of heavy cream and some chunks of pumpkin with nuts.
Ingredients:
¾ cup canned pumpkin
¾ cup milk
1 egg
1 cup dark brown sugar
¼ tsp vanilla extract
½ tsp ground cinnamon
¼ tsp ground ginger
1/8 tsp salt
Crushed pecans for topping
Procedure:
1. In a mixing bowl beat eggs and milk until become uniform liquid.
2. Add vanilla, brown sugar, salt, cinnamon, and ginger and mix well.
3. Fold the batter with the pumpkins and then pour into the baking molds.
4. Place these molds in pan half filled with boiling water and then poach in oven at 350 degrees F for 60 min or until knife inserted comes out clean.
5. After that cool the poached pumpkin custard at room temperature and then place in fridge to chill. Serve the delicious pumpkin custard with topping of crushed pecans.
photo source : 1