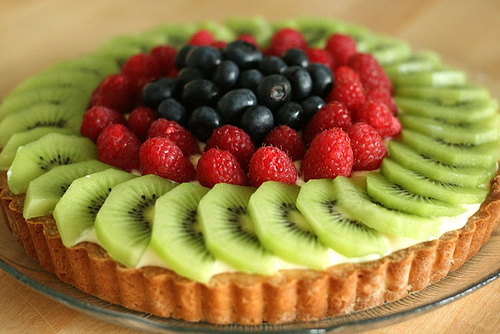 Preparation time : 2 hrs. (approx.) | Serves 6 persons
This recipe for fruit tart is prepared with homemade pie shell and pastry cream. Though the method is quite lengthy but the recipe tastes awesome. It would be the best dessert recipe for a party which you can prepare a day before.
Ingredients :
For the Tart :
1 egg yolk
1 tbsp heavy cream
½ tsp vanilla extract
1¼ cups all-purpose flour
⅔ cup confectioners' sugar
¼ tsp salt
4 oz unsalted butter
For the Pastry Cream :
1 cup milk
½ vanilla extract
5 tbsp caster sugar
3 large egg yolks
1 tbsp cornstarch
1 tbsp flour
½ cup heavy cream
½ tbsp confectioners' sugar
For Assembling :
Kiwi as required (sliced)
Berries as required (of your choice)
Strawberries as required (sliced or whole)
Procedure :
1. To make the tart, whisk together the egg yolk, cream and vanilla in a small bowl.
2. Sift together flour, sugar, and salt.
3. Process the dry mixture with cubes of butter in the processor until crumbs are formed.
4. After that add the egg mixture and run the processor again the mixture takes the form of dough.
5. Then transfer the dough onto the floured surface and turn into the smooth dough, Place the dough in a bowl cover with plastic and refrigerate for at least 1 hr. or preferably for 2 days.
6. After that take out the dough from refrigerator and leave at room temperature for a while so that it can roll out easily.
7. Then roll the dough out on a lightly floured surface to a size of your pie dish (preferably 13-inch pan size).
8. Transfer the rolled out dough to a tart pan so that it would cover the bottom and sides completely. Remove the excess dough from the edges of the pie dish and press the dough tightly from all sides.
9. Now place a piece of foil over the pie shell and put some weight of beans onto the foil so that tart would remain stick to the base. Place the dish in preheated oven for about 30 min at 375 degrees F, rotating halfway through the baking time.
10. After that remove from the oven and carefully remove the foil and weights. Then bake it again until become golden brown in color.
11. Meanwhile tart is baking, prepare pastry cream for the fruit tart, for that boil milk with vanilla and 4 tbsp caster sugar over medium heat.
12. In a medium bowl whisk together egg yolks and 1 tbsp caster sugar until become light yellow or pale.
13. Sift together cornstarch and flour into egg mixture and mix them well using whisk until smooth.
14. Add the milk mixture gradually to the flour and egg mixture and whisk continuously until become smooth. (If the mixture has some lumps then sieve it using strainer)
15. Pour the mixture into saucepan and let it boil over medium heat, whisking constantly to avoid sticking.
16. When the mixture starts to thick remove the pan from heat and transfer mixture to small bowl. Place a piece of plastic wrap directly onto surface of pastry cream and let it cool.
17. In another bowl beat together heavy cream and confectioners' sugar until soft peaks form.
18. Then gently fold half of the whipped cream into pastry cream combine will then add remaining cream and fold well to combine.
19. Now time comes for assembling, place the pastry cream over the pie shell, line in circles the berries or your choice, sliced kiwi, sliced strawberries and then serve immediately.
photo source : 1