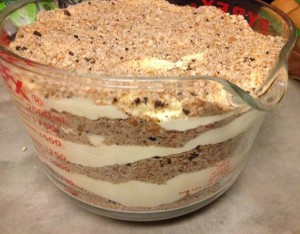 Preparation time: 20 mins. + Refrigeration time | Serves 4-6 persons
This Sand Pudding is usually made for youngsters or children who want some fun with their food. This pudding recipe is nothing but another form of cheesecake in which the crust is made with a granulated mixture of candies and wafers. Whereas the filling is very much similar to the cheesecake filling.
Ingredients:
1 pkg vanilla wafers
1 half-roll Oreo cookies
8 oz cream cheese
2 oz butter
4.5 oz powdered sugar
6 oz vanilla pudding mix
2¾ cup Milk
12 oz cool whip
Procedure:
1. Process oreo cookies and wafers in a food processor to give them texture like sand. Just give a few pulses and your sand layer is ready.
2. In a mixing bowl, cream together sugar, cream cheese, and butter till become smooth.
3. In another bowl, dissolve the pudding mix in milk and then pour this mixture into the cream batter.
4. Mix both of the mixtures well to make a smooth thick batter.
5. Now take a bucket shape container, first spread a layer of prepared sand around 1 inch thick, and then spread 1/3 of the prepared cream mixture on it. Similarly make 2 more patterns of the sand and cream mixture, making sure that in the end, the top layer will be of sand.
6. For giving it some color, place some animal shape candies like fish and worms. Chill the bucket in the fridge for at least an hour before serving.
photo source : 1