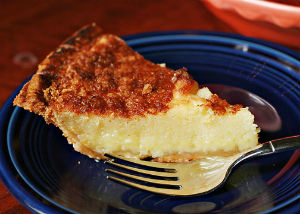 Preparation time: 60 mins. (approx.) | Serves 6-8 persons
This Southern Buttermilk Pie is prepared with simple ingredients but its flavor is very delicious and rich and a bit different from other buttermilk pies. The rich filling of the pie is mainly prepared with buttermilk, egg, and sugar whereas; flour is used to make the filling firm. You may adjust the amount of sugar according to your taste but its original taste develops with excess sugar or as mentioned in the recipe.
Ingredients
4 oz buttermilk
10 oz sugar
2 large eggs (lightly beaten)
¼ cup flour
Pinch of salt
1 stick butter (melted)
1 tsp vanilla
¼ tsp ground nutmeg
Procedure;
1. In a mixing bowl, whisk together buttermilk, butter, eggs, and sugar until well blended.
2. Add flour, salt, vanilla, and nutmeg and whisk again to mix well.
3. Take a 9-inch pie shell place it onto the pie dish and pour the prepared batter over the crust.
4. Place the dish in preheated oven at 400 degrees F for 5 mins. then reduce the temperature to 350 degrees and bake for a further 40 mins. or until becomes golden brown from the top and completely cooked from the inside.
5. When the pie is done, cool it to room temperature to make it firm, and then serve the slices with whipped cream topping.
photo source : 1