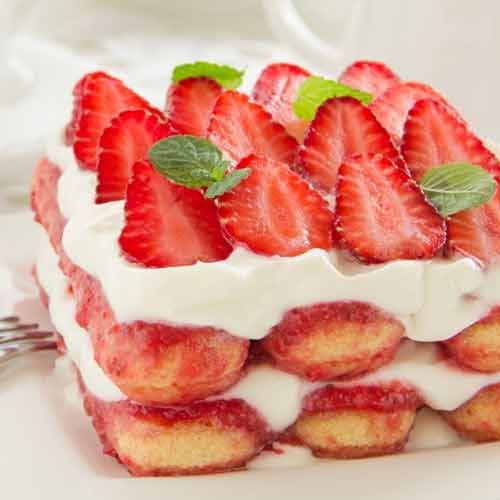 Preparation time: 30 mins. + Refrigeration time | Serves 8-10 persons
This Strawberry Tiramisu Recipe is totally made with strawberry flavor with delicious creamy batter. You may also call this Strawberry Trifle without custard. In this recipe, ladyfingers are dipped in strawberry sauce and then layers with creamy batter and fresh strawberries.
Ingredients:
24 ladyfingers
8 oz whipping cream
4 oz powdered sugar
8 oz cream cheese
For Strawberry Sauce:
½ cup orange juice
1 lb strawberries (sliced)
¼ cup water
4-6 tbsp granulated sugar
Procedure:
1. To prepare strawberry sauce, cook half of the strawberries with water for 10 mins. or until they become soft.
2. Then add 4-6 tbsp of sugar and simmer for 5 mins. until sugar dissolves completely and the sauce starts to thick.
3. After that, remove the pan from the heat and process in the blender to get a smooth texture of the sauce.
4. Now in a mixing bowl beat together whipping cream and powdered sugar until stiff peaks are formed.
5. Add cream cheese to the whipping cream and beat again to mix them well.
6. When the strawberry sauce gets cool to room temperature, add orange juice in it and mix well.
7. Now dip all the ladyfingers into the sauce and coat them well. Then make a layer of half of these ladyfingers at the bottom of a serving dish or casserole dish and then spread half of the prepared cream batter. Repeat this pattern of layers with the remaining ingredients and in the end, spread the remaining strawberry slices on top.
8. Refrigerate the dish for 2-4 hrs. and then serve immediately.
photo source : 1