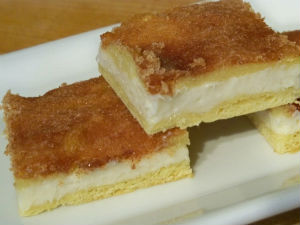 Preparation time : 40 mins. | Serves 8 persons
These Cheesecake Crescent Rolls are one of a great idea to enjoy cheesecake in much shorter time. Instead of using graham cracker crust the cheesecake filling is sandwiched between two crescent roll layers which results in awesome flavor.
Ingredients:
16 oz Pillsbury crescent rolls (thawed)
16oz cream cheese (softened)
10 oz sugar
1 tsp vanilla extract
1 tsp cinnamon
6 tbsp butter (melted)
Procedure:
1. In a mixing bowl. Combine cream cheese, 1 cup sugar and vanilla; beat at medium speed to make smooth paste.
2. Take a greased rectangular baking dish, unroll and press half of the crescent rolls into the bottom and also press the seams together.
3. Pour the prepared cream cheese mixture over crescent layer and spread it evenly, then cover with remaining crescent rolls in the same way as you did for first crescent rolls layer.
4. Combine remaining half cup sugar and cinnamon together. Drizzle the melted butter on the top crescent rolls layer and then sprinkle the cinnamon sugar mixture on it.
5. Bake at 350 degrees F for 25-30 mins. or until become brown and starts bubbling.
6. When the cheesecake crescent rolls are done allow to cool for 10-15 mins. and then serve by cutting into pieces.
photo source : 1