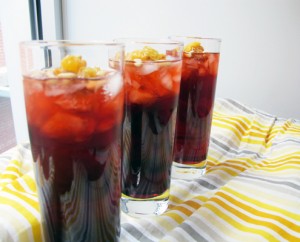 Preparation time : 5 mins. | Serves 6 glasses
This Jallab Recipe is a famous Mediterranean summer drink. This recipe is the Lebanese version prepared with dates and raisin flavors. This is also one of the best summer Ramadan drink for iftar.
Ingredients:
1 cup dates (seedless)
1.5 ltr ice water
¾ cup raisins
6 tbsp caramel syrup
2 tbsp rose water
Ice cubes floating as required
For Topping:
Pine nuts
Raisins
Procedure:
1. Blend together dates and raisins with one glass of water.
2. When the dates and raisins forms a smooth paste, add remainin ice water, caramel syrup and rose water and blend till become smooth.
3. After that strain the blended mixture and set aside.
4. Take a glass filled with crushed ice cubes, pour the strained blended mixture into the glass and top with few pine nuts and raisins. Refreshing Jallab drinks is ready to serve.
photo source : 1