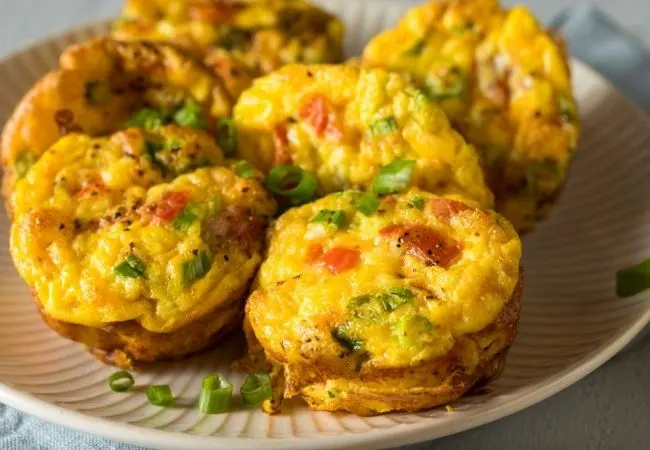 Preparation time: 20 mins. | Serves 12-16 muffins
These Egg Muffin Cups are nothing but another form of cheese omelet. The batter is almost the same as it is prepared for making cheese omelets the only difference is the method of cooking. You can make lots of variations to this recipe by adding vegetables of your choice and even you can add some shredded chicken to enhance its flavor.
Ingredients:
6 large eggs
Salt to taste
1 tbsp paprika
1 tbsp soya sauce
2 tbsp flour
½ cup milk
½ tsp dried oregano
1 green bell pepper (chopped)
2 medium shallots (chopped)
1 large tomato (chopped)
Grated cheddar cheese (as required)
Procedure:
1. Take a large mixing bowl and whisk together eggs, milk, flour, salt, paprika, and soya sauce using an egg beater until the mixture becomes frothy.
2. Add chopped vegetables and oregano and mix well.
3. Take a greased muffin pan, pour the batter into each muffin cup up to ¾, and sprinkle grated cheese on top.
4. Bake in preheated oven at 400 degrees F for just 10-15 mins. or until the cheese melts and becomes golden brown.
5. After that take out the pan from the oven and let it set aside for 3-5 mins. then take out the muffins and serve them with bread.
photo source : 1