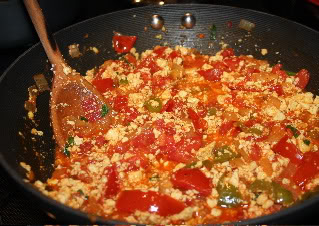 Preparation time : 10 mins (approx.) | Serves 2 persons
Scrambled eggs
recipe is one of a fast recipe for breakfast and hence there are variety of ways to prepare it as people make it according to their taste and cuisine. The best way to make it with tomatoes which really enhances its flavor.

Ingredients:
2 eggs
1 onion (julienne)
1 medium tomato (chopped)
1 tspn red chili powder
½ tspn black pepper powder
1 tspn cumin powder
Pinch of turmeric powder
Salt to taste
3 tbspn oil
Preparation:
1. Heat oil in a pan and fry onion for a minute.
2. When its color starts to change into brown, add tomato and cook it so that all tomato pieces have been mashed completely.
3. Now add all the spices and cook for a minute till oil starts to separate from the spices.
4. Beat 2 eggs using spoon and pour them on the spices. Stir and cook the eggs for 2-3 minutes until eggs completely done while cooking.
Servings:
Serve the scrambled spicy eggs with bread or paratha and enjoy it in the breakfast