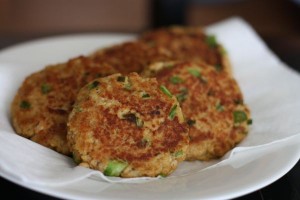 Preparation time: 30 mins. | Serves 4-6 cakes
This Canned Salmon Cakes Recipe is a quick and easy recipe to serve as a snack or side dish for any meal. As it is already clear from the title that canned salmon is used in the preparation but you can make it with fresh salmon if you have enough time. Adding some different types of seasoning also makes these cakes delicious like old bay seasoning, Italian seasoning, etc.
Ingredients:
6 oz. canned salmon (drained)
½ medium onion (chopped)
2-3 garlic cloves (minced)
1 medium potato (boiled and mashed)
½ cup panko breadcrumb
¼ cup chopped parsley
2-3 green chilies (chopped)
2 tbsp chives (chopped)
Salt and pepper to taste
2 eggs (lightly beaten)
2 tbsp unsalted butter
3 tbsp olive oil
Procedure:
1. Heat only 1 tbsp of olive oil in a frying pan and sauté onion and garlic in it for just 1-2 mins. to make them soft.
2. In a mixing bowl, combine salmon, sautéed onion and garlic, breadcrumbs, parsley, green chilies, chives, mashed potato, eggs, salt, and pepper. Mix them well to form a soft dough-like mixture.
4. After that make round shape cakes around 2-4" wide and ½" thick. This mixture yields 4-6 salmon cakes.
5. Now heat butter and remaining olive oil in a frying pan add prepared cakes to the melted butter and oil and fry them over medium heat for 5 mins. Then turn the side and cook it again for 3-4 mins. more until become crispy and light brown.
6. When the cakes are done, place them onto the paper towel to absorb excess oil and serve them with dill sauce or any dip of your choice.
photo source : 1