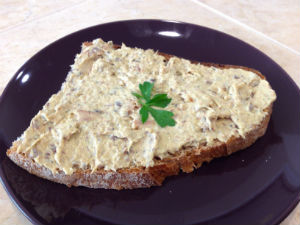 Preparation time: 20 mins. | Serves 1 small bowl
This Fish Spread Recipe is prepared with smoked salmon, which you can replace with other fish like sardine or trout. In addition to the fish flavor, the batter is prepared with cream cheese and mayonnaise. You can add some other seasonings and fresh vegetables to the spread to make it according to your taste.
Ingredients:
200 gm smoked salmon fillets (without skin and bones)
1 tsp garlic paste
½ tsp black pepper
3 tbsp cream cheese
1 tbsp mustard paste
4 tbsp mayonnaise
1 tbsp butter
Procedure:
1. Heat butter in a pan, add garlic paste and salmon fillets and stir well to mix. Cover the pan and cook over low heat for 5-10 mins. until fillets are cooked well from the inside.
2. Meanwhile in a mixing bowl, whisk together cream cheese, mayonnaise, and mustard paste until become smooth.
3. When fillets are done, mash them using a fork or you can even process them in the food processor.
4. Add the mashed fillets to the prepared mixture along with some black pepper and mix them well using a fork.
5. Fish spread is now ready to serve as sandwich stuffing. You can also add some chopped vegetables to the spread.
photo source : 1