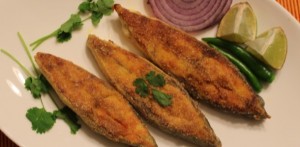 Preparation time : 10 mins. + 30 mins. Marinating time | Serves 2 persons
Pomfret Fry is one of a tasty recipes of Pomfret; you may either use black or white pomfret to make the recipe but make sure the fish should be fresh. The ingredients are simple and is a nice combination of East and West because powdered onion and garlic is used in place of their fresh paste and one different ingredient tomato paste is used while in most of the fried fish recipes yogurt or vinegar is used. The fish has some crispy crust of unique crumbs which also enhances the flavor.
Ingredients:
1 lb pomfret pieces
1 tsp onion powder
1 tsp garlic powder
1 tsp tomato paste
1 tbsp lemon juice
1 tsp salt
1 tsp chilli powder
Rice flour for coating
Cornflakes for coating
Oil for shallow frying
Procedure:
1. Marinate pomfret pieces with lemon juice, tomato paste, salt, onion, garlic and chili powder and leave for 30 mins.
2. Process together cornflakes and rice flour in your food processor to make smooth fine crumbs.
3. Now coat each marinated pomfret piece with the crumbs mixture and press it tightly so that crumbs would stick well.
4. Heat oil for shallow frying in a frying pan, fry pomfret pieces in batches for about 3-5 mins. per side to make it golden brown from both sides.
5. Serve the hot pomfret with lemon wedges, onion slices and salsa.
photo source : 1