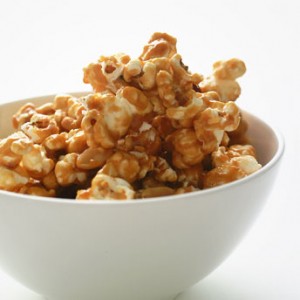 Preparation time : 15 min. | Serves 1 large bowl
This caramel corn recipe is one of a favorite Halloween recipe. In this recipe we used vanilla flavor with the caramel syrup which you may replace with your favorite flavor or you can also add salted peanuts or cashew to make it rich.
Ingredients:
½ cup butter
¼ cup corn syrup
1 cup brown sugar
10 cup popped corn
¼ tsp baking soda
1 tsp vanilla
Procedure:
1. In a mixing bowl combine butter, corn syrup and brown sugar and put in microwave on high till the mixture starts bubbling.
2. Then stir the mixture and microwave again for 3 min.
3. After that add baking soda and vanilla to the syrup and mix well.
4. Pour the mixture over the popped corn and mix well and microwave for just 30 seconds. It is better if you mix in paper bag so that they can easily go into microwave.
5. Spread the corns on wax paper and serve after temperature get down to normal.
photo source : 1