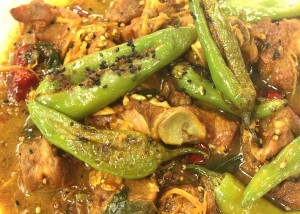 Preparation time : 60 mins. | Serves 6-8 persons
This achar gosht recipe is one of the spicy meat recipe from South Asian cuisine. It is prepared with pickled spices hence has some different flavor and gives good taste when served with hot naan.
Ingredients:
1 kg mutton
2 large onion (chopped)
2 tbsp ginger garlic paste
1 tsp coriander powder
1/2 tsp turmeric powder
1 tsp chili powder
1 tsp crushed red chili flakes
1 cup chopped tomatoes
1/2 cup yogurt
2 tsp fenugreek seeds
2 tsp fennel seeds
2 tsp nigella seeds
1 tsp mustard seeds
1 tsp cumin
1 tsp hot mix spice powder
3-4 tbsp lemon juice
2-4 tbsp tamarind paste
8-10 large green chilies
Salt to taste
3/4 cup oil
Procedure:
1. To prepare achari masala (pickle mix), roast together fenugreek, mustard and cumin for just a minute, then put them in grinder along with nigella and fennel and coarsley grind them.
2. Now saute onion in a saucepan with oil fr 2-3 mins. then add ginger garlic paste and mutton and cook over medium-high heat till all the water of meat would get dry and turn into brown in color. It would require approx. 10 mins.
3. Now add salt, turmeric powder, chili powder, chili flakes and coriander powder along with tomatoes and yogurt. Simmer for few mins. then add 1-2 cups of water to simmer it again so that meat would tender completely.
4. Meanwhile make a cut lengthwise in each green chili and set aside. Then add salt and tamarind paste to half of the achari masala and make a thick paste so that it can easily stuff in the chilies.
5. Stuff 1-2 tsp of prepared paste in the each of the green chilies and then shallow fry them in a pan for just 1-2 mins.
6. When meat tender completely and oil starts to appear on the surface, add the fried stuffed chilies, sliced ginger, hot mix spice powder, lemon juice and remaining achari masala and simmer for just 8-10 mins. more, then serve the hot and spicy achar gosht with naan.
photo source : 1