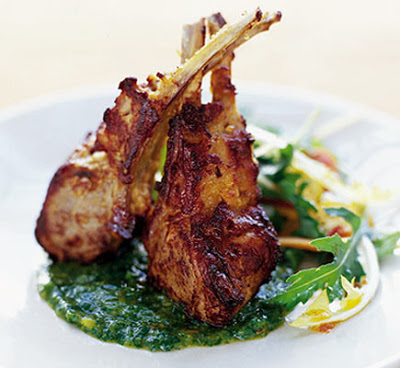 Preparation time : 30 mins | Serves 4 persons
Chops are prepared in different ways in various cuisines. Here is traditional Pakistani style chop recipe is shared in which you can use either mutton chops or lamb chops. You can also shallow fry these chops after steaming instead of baking which also tastes great. Generally yogurt sauce or green chutney is served with these chops.
Ingredients:
500 gm mutton or lamb chops
3 tbsp ginger paste
1/2 tbsp garlic paste
250 gm yogurt
1 tbsp red chili powder
1/2 tsp black pepper powder
1 tbsp cumin powder
1 tsp hot mix spice
1/2 tsp nutmeg and mace powder
Salt to taste
Procedure:
1. In a large mixing bowl, prepare marination for chops by mixing yogurt and all the spices including ginger garlic paste, red chili , black pepper, hot mix spice, cumin, nutmeg and mace and salt.
2. Now add chops to the marination batter and mixes well.
3. In steamer, boil water until steam starts to form, then place chops pieces on the steamer rack and cover to cook for at least 15-20 mins. until become tender.
4. When the chops have been done transfer them on greased baking tray. Don't forget to cover the base of tray with butter paper or aluminum foil. Pour the left over marination batter on to the chops and bake for at least 8 mins. at 350 degree F.
5. When the chops become light brown in color, take them out from the oven and serve the delicious hot mutton chops with any spicy dip.