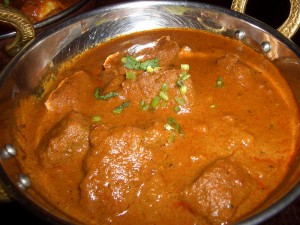 Preparation time : 2 hrs. (approx.) + 1 hr. Marinating time | Serves 6 persons
This shahi korma is prepared with lamb meat and is less spicy than other korma recipes. This korma can also be prepared with meat of chicken or beef with the same method except preparation time differs according to the cooking time of meat.
Ingredients:
¼ toasted cashews (crushed)
6 garlic cloves (minced)
2 tbsp ginger (minced)
1 kg lamb pieces
¼ cup oil
4-6 cloves
1″ piece cinnamon stick
3 greed cardamoms
2 black cardamoms
2 medium onions (finely chopped)
1 ¼ cup heavy cream
1 tbsp paprika
Salt and pepper (to taste)
2 tsp garam masala
Procedure:
1. Puree cashews with water in blender and mix with garlic and ginger.
2. Marinate the lamb pieces with this mixture and leave for an hour or overnight.
3. Heat oil in a deep pan and toast cloves, cinnamon and cardamoms for just 1-2 min until pleasant smell starts to come.
4. Add onions and sauté for 3-4 min.
5. Now add marinated meat and cook on high heat for just 4-5 min until all the water from meat become dry.
6. Add cream, paprika and seasoning of salt and pepper and mix well. Then add enough water so that thick gravy would form.(approx. 2 cup or more)and simmer for 90 min or until meat becomes tender.
7. After that sprinkle garam masala on top of the gravy and then serve hot with naan.
photo source : 1