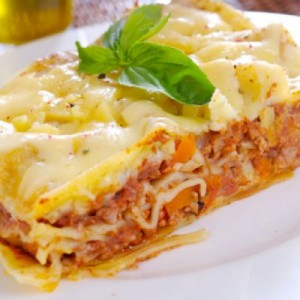 Preparation time: 5-6 hrs. | Serves 6 persons
This delicious recipe of lasagna is cooked in the crockpot with the same cheesy and meat sauce flavor. In this Crockpot Lasagna recipe no more white sauce is used instead of it, the meat sauce is cooked with spaghetti sauce which makes the lasagna juicy and soft.
Ingredients:
1 lb ground beef or turkey (leaned)
½ cup white onion (diced)
1 tsp garlic (minced)
3 cup spaghetti sauce
½ cup water
2 cup cottage cheese (crumbled or grated)
2 cups mozzarella cheese
¼ cup grated Parmesan cheese
1 whole egg
2 tbsp fresh parsley
6 uncooked lasagna noodles or as required
Procedure:
1. Cook ground beef with onion and garlic until gets brown. It would take 5-8 mins. over medium-high heat. Discard extra fat.
2. After that cook the beef with half of the spaghetti sauce and water and simmer for about 5 mins.
3. In a mixing bowl, combine cottage cheese, parsley, parmesan, egg, and half of the mozzarella cheese and mix well.
4. Now take a 4-6 quart crockpot, pour the remaining spaghetti sauce at the base, place half of the lasagna strips on it, then make a layer of half of the cheese mixture, and then spread half the meat mixture. Repeat the layer pattern and then cook for 5 hrs. on low settings. When the noodles get soft, spread the remaining mozzarella cheese and cover the lid to melt the cheese.
5. Easy Crockpot Lasagna is ready to serve.
photo source : 1