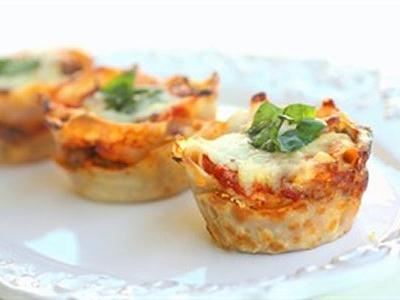 Preparation time: 70 mins. (Approx.) | Yield 12 cups
This Lasagna Cups Recipe is one of the modified forms of lasagna. In this particular recipe, the only difference is the use of cheese sauce instead of the typical white sauce which is used in most lasagna recipes. You can make variations to these lasagna cups by using different flavors of sauces.
Ingredients:
For Beef Sauce:
2 tbsp olive oil
½ large onion
½ lb lean ground beef
½ red bell pepper (chopped)
4 cloves garlic (minced)
6 oz tomato paste
8 oz tomato sauce
14.5 oz diced tomatoes
1 tbsp dried basil
½ tbsp dried oregano
1 tsp sugar
Salt and pepper to taste
For Cheese Filling:
8 oz cream cheese
½ cup chicken broth
1 tbsp Italian mix herbs
½ tsp ground black pepper
2 tbsp cream
1/3 cup grated parmesan cheese
3 cup mozzarella cheese (grated)
1/3 cup ricotta cheese
18 lasagna sheets
Procedure:
1. To prepare beef sauce, heat oil in a saucepan, add onion and garlic and cook for 2-3 mins. until become soft and translucent.
2. Add ground beef and gently cook over medium-high heat until beef turns into brown color. Discard extra liquid fat if necessary.
3. Now add tomato sauce, tomato paste, diced tomatoes, oregano, basil, sugar, salt, and pepper. Stir and cook until it starts bubbling then reduce the heat to simmer, cover, and cook for 30 mins.
4. Meanwhile, boil lasagna sheets in salted water for just 3-5 mins. or just to make it handle easily. Don't cook the sheets completely otherwise they will start breaking while assembling.
5. Now prepare cheese filling, for that you need to cook together cream cheese and chicken broth until all the cheese melts completely and forms a thick creamy batter.
6. Then remove the pan from heat, cool it slightly to remove steam, and add seasoning of Italian herbs, parmesan cheese, cream, half of the mozzarella cheese, salt, and pepper. Mix them well and set them aside.
7. When the beef sauce has been done, remove the pan from heat and cool it slightly.
8. Take a large muffin pan and place parchment paper in each of the cups.
9. Take 6 lasagna sheets and cut each of them into 4 equal pieces.
10. Place 12 of these small lasagna sheets at the base of each cup and reserve the remaining 12 small sheets to cover the lasagna cups.
11. Then line the edges of the muffin cups with 1 pasta sheet per cup in such a way that both the corners of the sheet overlap about 2 inches.
12. Now make layers, spread 1 tbsp of sauce at the base, then add a layer of cheese filling and repeat this pattern one more time.
13. Place the small lasagna piece to cover the filling, spread 1 tbsp of sauce on it, and sprinkle some mozzarella cheese on top. Similarly, prepare the rest of the cups.
14. Place the pan in preheated oven at 350 degrees F for 25-30 mins. or cheese starts bubbling and turns brown in color.
15. Take out the lasagna cups from the oven; cool them for just 3-4 mins. then serve the hot lasagna cups immediately.
photo source : 1