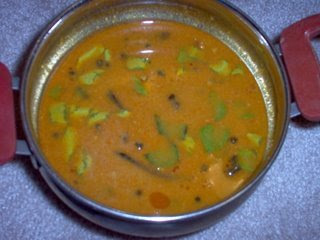 Preparation time : 40-45mins | Serves 4 persons
Lentils are of many types like large yellow lentils, small yellow lentils, red lentils, etc. Lentils are used to make different foods for instance it is used in kebabs and meat balls to make them soft. Lentils curry is very common in South Asian cuisine. Since this curry is slightly thin in texture i.e, i prefer to call it curried lentil soup. To make best lentils curry chicken stock is also used.

Ingredients:
½ cup Large Split Yellow Lentils / Split Bengal Gram Curry (Channa daal)
1 large onion (cut in large pieces)
2 medium tomatoes (cut in large pieces)
1/2 tbspn garlic paste
1/2 tbspn ginger paste
½ tspn turmeric powder
1 tbspn red chili powder
½ tspn fenugreek seeds
½ tspn black pepper powder
1 tspn cumin powder
½ cup vegetable oil
Procedure:
1. Soak the yellow lentils in water at least half an hour before cooking. In a blender, blend onion and tomato to make smooth paste.
2. Heat oil in the deep pan, put fenugreek seeds in it and fry till its color turns into dark brown.
3. Now pour onion and tomato paste in it very carefully on turning flame to very low so that smoke will not be produced.
4. After it add ginger garlic paste, turmeric powder, chili powder and salt in the mixture and cook on high flame so that all water has been dried and oil starts to separate from the gravy.
5. At this stage add yellow lentils and water so that lentils completely dip in the water and even one grain is not seen on the top i.e. all grains must dip in the water completely.
6. After 5mins when it boils, turn the flame to low and leave to cook it till tender.
7. When lentils becomes tender add black pepper and cumin powder in it or you can also add chicken stock or chicken cube to make it more delicious.
8. Turn off the flame after 10mins. Its consistency depends upon what you like you may cook it more to get thick consistency or ideally it is taken as normal neither too thick nor thin just like curry.
Servings:
Garnish the delicious channel daal or Bengal gram curry with coriander leaves and serve with boil rice or chapatti.