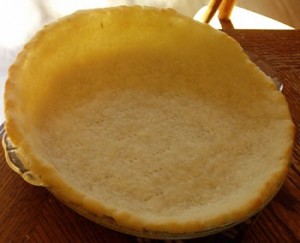 Preparation time: 50 mins. | Serves 2 9-inch pie crust
This Easy Gluten Free Pie Crust is for those who want to make gluten-free recipes at home. This recipe requires a few techniques and patience as it needs a little bit more time to prepare as compared to other pie crusts. You can use this pie crust for making various pie recipes.
Ingredients:
For Gluten-Free All-Purpose Flour Blend:
2 cups superfine white rice flour
1 cup superfine brown rice flour
1 1/8 cup potato starch
3/8 cup cornstarch
1 tbsp xanthan gum
For Crust:
2½ cup gluten-free all-purpose flour blend
1 tsp fine salt
1 tsp sugar
1 cup unsalted butter (frozen and cubed)
8-9 tbsp iced water
1 egg white
Procedure:
1. Combine ingredients for gluten-free all-purpose flour blend and mix them well.
2. In the food processor bowl, add the flour mixture, salt, and sugar and give 1-2 pulses.
3. Add butter cubes and give a few pulses to make the crumbs-like texture.
4. Now add a tablespoon of cold water at a time and give pulses between each addition until the mixture forms a dough. 5. To check whether the dough is ready, pinch it and if it sticks together then it will be the right stage to take it out onto the counter.
6. Knead the dough using flour and roll it to make half inch-thick disk, then fold it again to make a smooth ball and divide it into two pieces.
7. Roll out both pieces separately to make them flat. Wrap with the plastic sheet and then refrigerate for an hour.
8. After that take out the dough from the plastic and roll it again onto the dusted counter. When the disk reaches to 1/8-inch thickness place the rolling pin on one side of the disk and start rolling till it wraps completely around the pin.
9. Carefully place the rolling pin onto the pie dish and unfold the disk. Press it down and along the sides, allowing the quarter-inch edge to overlap with the rim.
10. Place the pie dish into the refrigerator for 30 mins. Place a foiling sheet onto the crust and put some dry beans and bake in preheated oven at 350 ° F for 20 mins.
11. After that remove the dry beans and foiling sheet from the crust; poke holes in the bottom crust with a fork and bake for further 10 mins. The crust is now ready to use.
photo source : 1