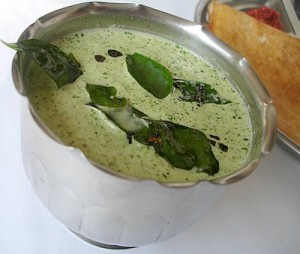 Preparation time : 15 min | Serves 1 ½ cup
This recipe for coconut chutney is one of a famous South Indian chutney recipe which is usually served with traditional street foods like masala dosa, idli, sambhar, etc. You can also serve this chutney with any roll and samosa as it gives awesome flavor to these foods.
Ingredients:
1 cup grated coconut (fresh or coconut flakes)
2 green chilies (seeded and finely chopped)
½ tsp fresh ginger (finely chopped)
½ tsp garlic (finely chopped)
¼ cup fresh coriander leaves (chopped)
¼ tsp salt
¼ cup water
1 tsp vegetable oil
½ tsp black mustard seed
2 shallots  (very finely chopped)
4 curry leaves
½ tsp black gram or urad dal (soaked for 15 min)
¼ cup plain yogurt
Procedure:
1. Make a thick paste of coconut, green chili, ginger, garlic, coriander, and salt in a food processor and add water accordingly.
2. In a skillet, heat oil and fry mustard seed for 1-2 min until the seeds pop, then add curry leaves, urad dal and shallots and fry for 3-4 min until shallots turn into white.
3. After that remove the skillet form heat and mix it with coconut paste and yogurt. Serve the sour and spicy coconut chutney with masala dosa, idli or sambhar.
photo source : 1