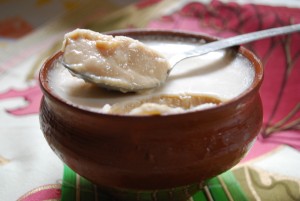 Preparation time : Overnight | Serves 1 large bowl
This Sweet Yogurt is one of a favorite summer item in South Asian cuisine specially in Bengali cuisine where it is called as Mishti Doi. It would be a wonderful food item for Suhur in Ramadan if it is served with traditional paratha.
Ingredients:
½ ltr evaporated milk
1 cup yogurt
1 cup sugar or to taste
Procedure:
1. Cook evaporated milk with sugar till sugar dissolve completely.
2. Cool evaporated milk to lukewarm and then mix with yogurt. Whisk the mixture well and then pour into the clay pot bowl or stainless steel bowl.
3. Cover the bowl properly and place it at the warm place in kitchen for overnight.
4. After that refrigerate for an hour and then enjoy the delicious flavor of sweet yogurt.
Note: If you don't want to use evaporated milk then take 1 ltr full cream milk cook it over low heat till remains ¾ then add sugar in it and cook it again until it gets little bit creamy or remains half.
photo source : 1