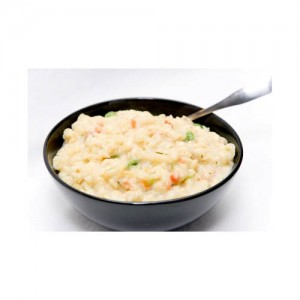 Preparation time : 40 min. | Serves 4 persons
This cheesy spaghetti is prepared with chicken, veggies and cheesy white sauce. The chicken is cooked in a similar fashion as of Fajita style while the white sauce is cooked with the flavor of both fajita chicken and veggies. The combination results in yummy flavor of spaghetti with creamy sauce, fajita flavor and fresh veggies.
Ingredients:
For Chicken:
1chicken breast (cut into strips)
¼ cup vinegar
½ cup olive oil
1 tsp garlic powder
1 tsp honey or sugar
2 tsp dried oregano
1 tsp ground black pepper
¼ tsp dried thyme
½ tsp dried basil
1 tsp dried parsley
1 tbsp salt
For Sauce:
2 tbsp butter
2 tbsp oil
1 tsp garlic cloves (minced)
5 tbsp flour
½ liter milk
1 tsp crushed black pepper
Salt to taste
1 small capsicum (chopped)
1 medium carrot (chopped)
5 tbsp fresh cream
1 cup slice cheddar cheese
½ packet spaghetti
Procedure:
1. Cook spaghetti according to the package instructions.
2. Marinate chicken with the ingredients mentioned to cook chicken and leave for 15 mins.
3. Then cook chicken in a lightly greased pan over medium heat till chicken would turn into light brown in color.Then remove the chicken from pan.
4. In the same pan heat butter and oil to prepare sauce, saute garlic in the melted butter for a minute.
5. Add flour and cook till pleasant roasted smell starts to come, constantly stir while cooking so that flour would not burn or turn into dark brown.
6. Now remove the pan from heat and slowly add milk to the flour, stir using whisk make sure that there would be no lumps.
7. Now again cook the sauce till it starts to thick then add seasoning of salt and pepper with veggies and chicken. Cook the mixture over low heat for 8-10 min.
8. Then remove the pan from heat, add cheese and cream and mix it well among the sauce ingredients. . In the end add spaghetti and fold it evenly into the chicken vegetable sauce. Serve immediately. You can also make this sauce in style of Mexican cheese dip in which you will have to replace the hamburger meat with your Fajita chicken.
photo source : 1