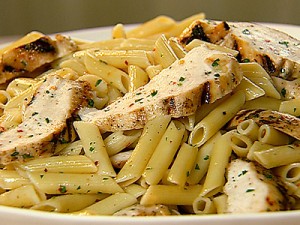 Preparation time : 30 min. | Serves 2-4 persons
This chicken lemon pasta is one of a simple pasta recipe which can be easily prepared. You don't need to bring lots of ingredients to make this recipe, just grill chicken with salt, pepper and garlic, boil pasta season it with sauted garlic and pepper and then toss with chicken and lemon juice; and here it is your easy and simple chicken lemon pasta is ready to serve with topping of parmesan.
Ingredients:
1 lb dried penne pasta
1 chicken breast (cut into fingers or thin slices)
Salt and pepper to taste
1 tsp garlic powder
3 cloves garlic (sliced)
¼ tsp red pepper flakes
3 tbsp olive oil
3 tbsp fresh parsley (chopped)
2 lemon juice
½ cup grated Parmesan
Procedure:
1. Boil pasta according to the package instructions.
2. Marinate chicken with salt, pepper and garlic powder.
3. Heat large grill pan with 1 tbsp of olive oil and then add chicken. Grill over medium heat until turn into golden color and cooked completely from inside.
4. In a pan, saute garlic and red pepper flakes in remaining olive oil till become slightly golden on color.
5. Now add the cooked pasta with seasoning of salt and pepper and mix it well with the ingredients.
6. Remove the pan from heat and add chicken to the pasta along with chopped parsley and lemon mix them well. Transfer the hot pasta immediately to the serving platter and top with parmesan cheese before serving.
photo source : 1