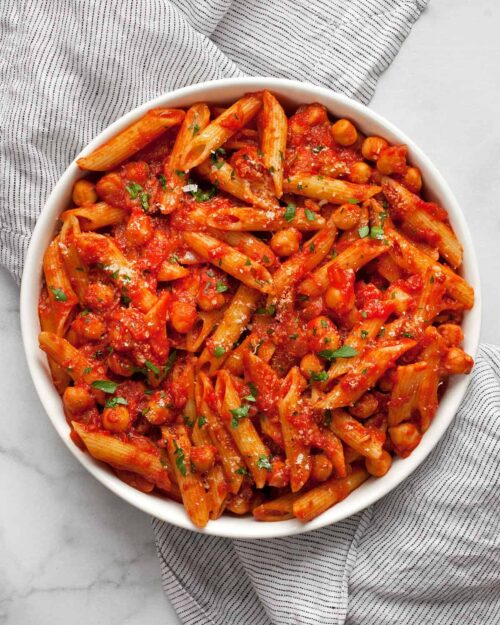 Preparation time: 30 mins. | Serves 4-6 persons
This Penne Arrabiata Recipe is prepared with creamy tomato sauce and chicken cubes. The actual taste of this pasta is developed due to its sauce. In this recipe, the creamy texture of the sauce is developed by adding cream cheese and cream which you can also replace with milk and cheddar cheese flavor.
Ingredients:
1 pack penne pasta (boiled)
For Chicken:
1 chicken breast (cubed or striped)
1 tsp garlic (crushed)
½ tsp salt
½ tsp black pepper
½ tsp oregano leaves
1 tbsp oil
For Sauce:
1 onion (chopped)
1 tsp garlic (chopped)
1 cup tomato puree
2 tsp red chilies (Crushed)
½ tsp salt
½ tsp black pepper
½ cup chicken stock
2 tbsp sugar
1 tbsp oregano
3 tbsp olives (Chopped)
1 tbsp jalapeno (chopped)
1 tbsp cream cheese
1 cup cream
½ cup water
Oil as required
Procedure:
1. To prepare chicken marinate it with garlic, salt, pepper, and oregano and leave for 10 mins.
2. Heat oil in a frying pan and cook marinated chicken for 10-12 mins. or until it is done.
3. To prepare sauce, heat oil in a pan and sauté onion and garlic in it for just 2-3 mins. until become translucent.
4. Add tomato puree, crushed red chili, salt, pepper, sugar, and chicken stock. Let the mixture boil then cook over high heat to make the sauce a little denser.
5. Now add oregano, olives, jalapeno, cream cheese, and cream, and mix all the ingredients together.
6. Remove the pan from heat and toss the chicken and boiled pasta in the prepared sauce.
7. Delicious Penne Arrabiata is now ready to serve with the topping of some parmesan cheese.
photo source : 1