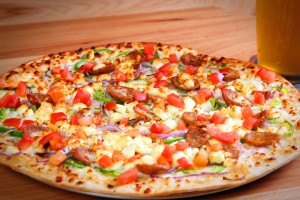 Preparation time : 20 min. | Serves 2 pizzas
This chicken garlic pizza is prepared from garlic pizza sauce which tastes bit different from tomato pizza sauce. The topping depends upon your choice, it can be varied but here in this recipe cooked chicken is used with vegetables which is easy to prepare at home in short time.
Ingredients:
2 tbsp butter
2 tbsp flour
1 cup half and half
¼ tsp salt
¼ tsp garlic powder
¼ tsp oregano
¼ tsp thyme
2 cup mozzarella cheese (grated)
1 cup parmesan cheese (grated)
1 cup chicken (cooked and shredded)
2 green onions (chopped)
2 red tomatoes (seeded and chopped)
2 Pizza crusts
Procedure:
1. For garlic pizza sauce, heat butter in a sauce pan and roast flour and garlic powder in it.
2. When flour starts to turn into light brown in color slowly add half and half and stir continuously until sauce gets thick. It is better to remove the pan from heat first and then add half and half to avoid splattering.
3. When sauce starts bubbling remove the pan from heat, add salt, oregano and thyme to the sauce and mix well.
4. Now take a crust of pizza and spread half of the prepared garlic sauce on it, sprinkle shredded chicken, green onions, tomatoes and cheese.
5. Place the assembled pizza crust in preheated oven for 10 min at 400 degrees F. After that turn off the lower burner and turn on the upper burner of your oven, reduce the temperature to 350 degrees F and bake for 5 min more so that cheese melts completely and turn into light golden from top.
photo source : 1