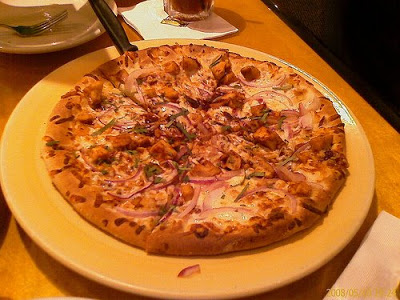 Preparation time : 20 mins | Serves 4-6 persons
Pizza can be categorized in two ways either by dough (thin crust pizza, pan pizza, etc.) or by topping styles (fajita, bbq, prawn, etc). Pizza toppings are prepared in many ways and anyone can easily create one in their own style. Here we have an Incredible Pizza Recipe usually known as bbq pizza and sometimes also called Chicken Tikka Pizza. In this recipe normal pizza dough is used and pizza toppings are made of chicken tikka / bbq pieces with vegetables, cheese and sauce such as pizza sauce or bbq sauce.
Ingredients:
For Chicken Tikka:
1 kg boneless chicken pieces (cut in cubes)
1 tbspn ginger paste
1 tsbpn garlic paste
1 tbspn red chili powder (or as you required)
1 tspn turmeric powder
Salt to taste
3 tbspn lemon juice
500 gm yogurt
1 tbspn all spices powder
1 tspn nutmeg and mace powder
50 gm saffron (optional)
For Pizza:
Pizza sauce as required
Mozzarella cheese as required
Cheddar cheese as required
Capsicum as required (julienne)
Onion as required (cut in large pieces and separate individual layers)
Procedure:
1. Follow the steps of chicken tikka recipe to make boneless chicken tikka.
2. Take pizza dough and spread it in circular shape of thickness half inch.
3. Spread pizza sauce or bbq sauce over it .
4. Put half of mozzarella and cheddar cheese, then spread chicken tikka pieces over whole pizza.
5. Put capsicum and onion pieces over it and in the end cover it with remaining cheese.
6. Put the pizza in preheated oven at 250oC for 5-8mins when pizza dough completely rises, then reduce the temperature to 180oC and bake for 8-10mins more till it become slightly brown from top.
Servings:
Serve this spicy and delicious pizza with salad like cole slaw.