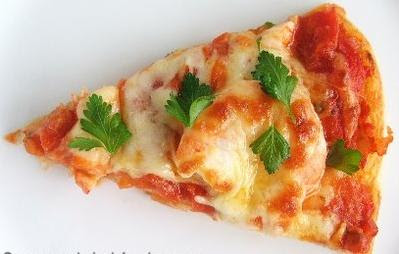 Preparation time : 30mins | Serves 4 persons
Pizzas have lots of flavor due to different variety of toppings used. Pizza toppings are not only made of chicken and vegetables but also made of beef, fish or shrimp. Pizza flavor mostly depends upon its topping so to make a perfect pizza , it is advised to choose fresh ingredients for its topping. In this recipe shrimps are used to give a different flavor to pizza so I call this shrimp pizza.

Ingredients:
250 gms shrimp
½ cup onion (chopped)
1 garlic bunch
2 garlic cloves (copped)
Salt to taste
1 tspn black pepper
1 tspn crushed red chili
1 tbpn butter
1 tspn oil
Pizza cheese as required
Procedure:
1. Wrap garlic bunch in a aluminum foil and put in oven for 5mins until it becomes tender completely.
2. In a pan, put butter and oil tosauté chopped onion and garlic.
3. Add prawns and salt and fry for 2-3mins.
4. Now add seasonings; pepper, crushed red chili and baked garlic (remove garlic bunch from foil, separate the skin and use the tenderized cloves). Cook for 5mins.
5. Now take pizza dough and spread it on the pizza pan, coat pizza sauce on it, put pizza cheese and fried prawns.
6. Put the pizza in the preheated oven at 250oC. When pizza rises after 5mins reduce the temperature to 180oC. Take out it out on turning light golden on top after 8-10mins.
Servings:
Serve this spicy and delicious pizza with any salad like Cole slaw and ketchup.