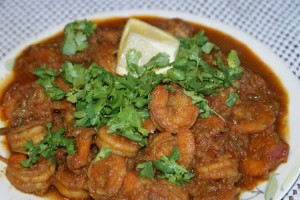 Preparation time : 40 min. | Serves 6 persons
This is a spicy prawn curry recipe having lots of flavors and is a very popular curry in South Asian Cuisine, particularly Indian cuisine. This prawn curry is made in a very similar fashion in which other curries are made. Continue reading below to find out what it requires and how the this spicy prawn curry is prepared.
Ingredients:
1 kg medium size prawns (clean them and cut their tails)
1/2 kg tomatoes
4 medium size onions (cut in julienne)
3 potatoes (cut in small cubes)
2 green cardamom
1 black cardamom
2 cinnamon sticks
3 cloves
2 tbsp garlic paste
1 tbsp ginger paste (optional)
1 tbsp red chili powder
1 tsp turmeric powder
1 tbsp cumin powder
1 tsp black pepper
Salt to taste
1 tsp mix spice powder (garam masala)
1/4 tsp nutmeg and mace powder
1 cup oil
Procedure:
Take a tablespoon of oil in a pan and saute prawns on medium high flame for 2 minutes only so that their water dries out and they turn pink in color. Don't try to cook prawns for more than that because they will become very hard like rubber and will give you a hard time chewing them.
In a sauce pan, heat the remaining oil and fry onions on high flame for 8-10 minutes and stir constantly while frying until they become light golden in color.
When onions have been fried, add tomato pieces, ginger garlic paste, red chili powder, turmeric powder, salt, cloves, cardamoms and cinnamon sticks. Cover the pan and cook them on medium flame until they all mix together and form a curry. It takes at least 10 – 15 minutes for the curry to be cooked.
When curry becomes red in color and onions gets soft, add potato pieces with one cup of water and let them cook for 15 minutes until potato becomes tender.
After that uncover the pan and cook on high flame so that oil starts to separate from the gravy. Now its time to add rest of spices; cumin powder, black pepper powder, mix spice powder and nutmeg and mace powder.
In the end, add fried prawn pieces and sprinkle some coriander leaves. Mix them together and and then cover the pan. Just cook for a minute on very low flame.
photo source : 1