Making perfect round tortillas of every size is pretty much difficult for most of the working women who don't have much time to spend in the kitchen. For making tortillas you should take care of three things; the dough should be soft and elastic, it is rolled evenly and cook perfectly to get even texture. All these things require experience. So tortilla machines are designed for such class of women who don't have much time for home cooking but due to the high price item it would be difficult to afford. However, some reputable online stores like Amazon frequently offer attractive deals of Tortilla Machine For Sale like CucinaPro Flatbread and Tortilla Maker and Nostalgia Electrics Tortilla Shell Maker which are available on discount rates.
CucinaPro Flatbread And Tortilla Maker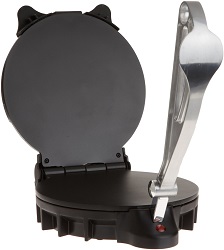 The CucinaPro 1443 is the largest flatbread maker which can make around 10-inch size tortilla. The cooking plates are made of heavy weight aluminum with nonstick coating and thus cleaning of this tortilla maker is very easy. The 1000-watt CucinaPro Tortilla Machine is very simple to operate, all you'll have to do is to knead soft smooth dough, make little balls and press them slightly on your palm to make it flat. Now turn on the CucinaPro Tortilla Maker, place the rolled dough in the center, cover the flap and press for just 10 seconds or press 3 three times for 2 seconds, this will make your bread flat and then cook till it is done. Make sure you don't have to press the bread too long, otherwise it will make your bread hard and if you take out the bread from the maker too early it will be too elastic. So timing is very important! It comes with an instruction manual which contains all the necessary information about the handling and also contains some useful flat bread and tortilla recipes. Unfortunately, it is not made for gluten free flour so use only gluten flour for making flatbread in this tortilla maker. What else you can make with this great CucinaPro Tortilla Maker is homemade tacos, tostadas, quesadillas, or gyros. If you are the one who prefer to have only homemade fresh food then this tortilla maker would be the perfect choice for you. You can buy it from Amazon because it is offering the CucinaPro 1443 Tortilla Machine For Sale. So hurry up and grab this piece of useful kitchen appliance before it is end.
Nostalgia Electrics Tortilla Shell Maker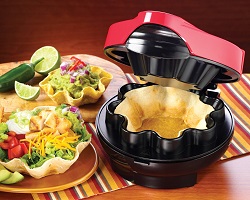 Tortillas can be made in any shape like a bowl shape to stuff some delicious filling. But making tortilla cups is not easy, so Nostalgia Electrics makes this possible for the tortilla lovers by introducing the awesome TSM100 Fiesta Series Tortilla Shell Maker. What this appliance does is simple – just bought some corn or flour tortillas, warm it in microwave for 15 seconds and then place it in the Tortilla Shell Maker. The cooking time is different for corn and flour tortilla which is around 3 mins. and 5 mins. respectively. The instruction manual contains all the necessary points regarding the cooking tortilla bowls. If you are using uncooked flour tortillas, then you don't need to preheat just put it directly to the bowl maker. You can use these tortilla bowls to stuff delicious foods like salads, party dips, desserts and more. If you are agree to the advantages of this amazing Nostalgia Electrics Tortilla Shell Maker then it's the right time to grab it from Amazon because it is offering this Tortilla Machine For Sale at 33% discount.