Induction Cooking is one of the most advanced forms of modern cooking which cooks food comparatively quickly. Since heat is generated by induction means in these cooktops, therefore the cookware used for induction cooking must be made of ferromagnetic materials like cast iron or stainless steel. Here in this review, you have given the bestselling cookware for induction cooktops that you can safely use. These cookwares include pots, pans, saucepans, sauté pans, frying pans, skillets, etc.
1. 3-Piece Frying Pan Set with Non-Stick Coating and Induction Compatible Bottom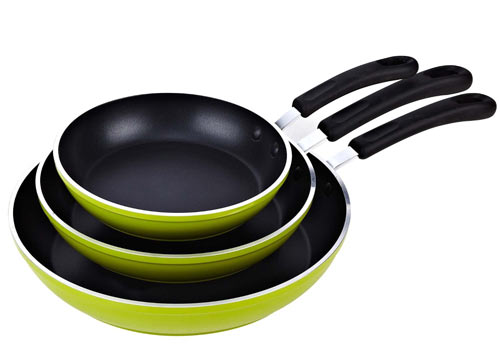 Cook N Home manufactures this 3-Piece Frying Pan Set. The special feature of these pans is that even they are Non-Stick but can be used for induction cooking, as their bottoms are made compatible with induction cooktops. The set comprises 3 different sizes of frying/sauté pans ranging from 8-inch to 12-inch. They are designed with thick aluminum gauge material so that heat distributes evenly inside the pan. Whereas, the handles are made with soft insulated material that remains cool during the cooking.
This handy set of cookware for induction cooktops is easily available at the Amazon store for just under $45 with Free Shipping.
2. Duxtop Whole-Clad Tri-Ply Stainless Steel Induction Ready Premium Cookware Set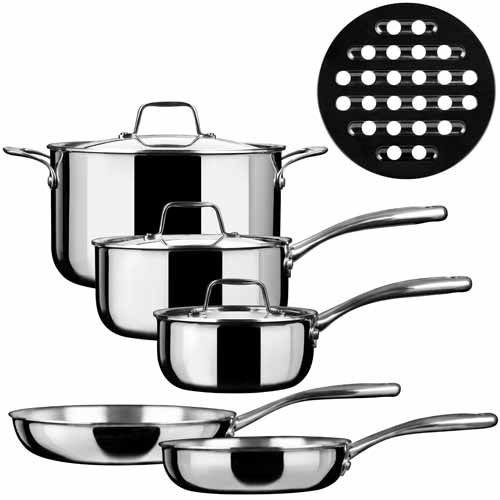 This Duxtop cookware for induction cooking comprises the 9-Pc set including:
• 8-Inch and10-Inch Fry Pan
• 1.6-Quart and 3-Quart covered saucepan
• 6-1/2-Quart saucepot with cover
• 6.6-inch pot holder
All these pots and pans are made with Whole-Clad Tri-Ply Stainless Steel body i.e. a layer of thick aluminum core sandwiched between stainless steel layers. It also comes with exclusive Whole Clad bonding technology that increases the lifetime of cookware as compared to traditional pots and pans. This set of cookware can also be used for various other cooking methods like gas, electric, and halogen cooktops. Like other professional cookware, these pans and pots have also ergonomic design stay-cool handles.
This Duxtop Cookware Set for induction cooktops is available at the discount rate of 65% on the Amazon store. So, immediately grab it before the offer ends!
3. Duxtop Professional Stainless-steel 17-piece Induction Ready Cookware Set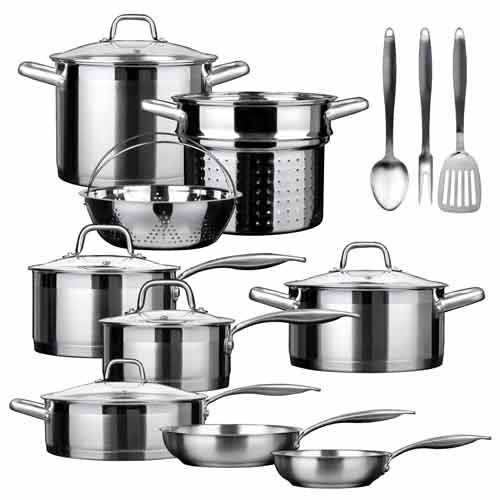 This is another cookware set for induction cooktops from Duxtop but is double in size as compared to above. It consists of 17-Pcs including:
• 8 and 10-inch fry pans
• 1.6-quart and 2.5-quart saucepans with lids
• 4.2-quart casserole with lid
• 8.6-quart stockpot with lid
• 5.5-quart sauté pan with helper and lid
• Boiler basket and steamer basket
• 3pcs kitchen tools including spoon, slotted turner 2-prong fork
These pans are made with 18/10 stainless steel material, which is usually used for commercial purposes. Irrespective of the above Duxtop cookware set which uses Whole Clad Bonding Technology, this set has a heavy gauge impact-bonded aluminum encapsulated bottom which is also last for a longer time. Other features include an easy-grip handle with an anti-slippery satin finish, dishwasher safe, and oven safe. Like the above Duxtop 9-Pc set this can also be used for other cooktops.
If you have a larger family and are used to cooking a variety of foods at home then this Duxtop 17-Pc Cookware set is best for you. You can buy it from Amazon at a price of just under $270 with Free Shipping.
On the other hand, if you don't want to buy this cookware for induction cooktops and use your current cookware then you need an interface disc that you can place under any cookware or over your induction cooktop. In this way, you can use any kind of cookware on induction cooktops. The best available interface discs for induction cooking are:
1. Mauviel M'plus 7500.00 Interface Disc
2. VonShef Stainless Steel Induction Hob Heat Diffuser with Heat Proof Handle
Both of these heat-diffusing plates are made of a three-layer coating in which an aluminum layer is sandwiched between the two stainless steel layers. It distributes the heat evenly in all areas of the pan irrespective of the pan size. Using these interface discs you can save money and use the same cookware which you already have and do Induction cooking safely. These plates also have ergonomically designed handles so that you can move them without the risk of burning yourself.


These cookware plates for induction cooking are available at Amazon stores at the following rates:
• Mauviel M'Plus Interface Disc costs $104.5 (due to its good metallic body and an insulated rubber grip at the handle)
• VonShef Heat Diffuser with Heat Proof Handle is available at a 46% discount rate.