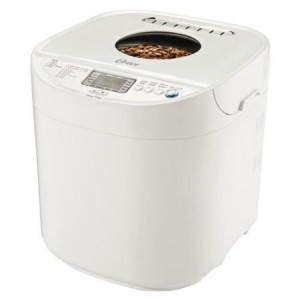 [asa]B003GXM0EM[/asa]
This is another addition to our bread machines category but this time by Oster a renowned name in producing variety of home appliances. Here we going to talk about the Oster Expressbake Breadmaker CKSTBRTW20; its a 2-lb bread maker which is designed with almost all the necessary programs that are found in typical bread machines. Thus the question arises; Why one should prefer this Oster breadmaker over other brands? So here is the answers, this unique bread machine has additional feature of Expressbake® which you hardly find in any of other bread machines.
Expressbake® Function:
Lets cast some light onto this Expressbake feature of the Oster Expressbake Breadmaker; using this function one could have nicely baked and dark crust bread within an hour of time. Under this particular setting, bread will be baked at high temperature thus it prepares dark and thick crust bread in lesser time. It also offers you to bake Expressbake bread of two different sizes 1.5-lb and 2-lb.
In addition with the above Expressbake function of the Oster Expressbake Breadmaker, it has capability to prepare 9 different types of bread including Basic, French, Whole Wheat, Sweet, Express Bake (1.5lbs.), Express Bake (2.0lbs.), Quick, European, Dough, Bagel Dough with three different crust options; Light, Medium and Dark or Rapid. The Rapid feature works only for Basic, French and Whole Wheat Bread programs. The timer can be programmed up to 13-hours and when the baking is finished the machine starts buzzing for 15 times and will then switch to Keep Warm mode to keep your bread fresh and warm.
Where to Buy?
This Oster Expressbake Breadmaker can do more for you like preparing pizza, pasta dough and jams. If you are willing to buy this Oster bread maker then you will have to check out the Amazon online store where it is available at price of just under $60 with Free Super saver Shipping.