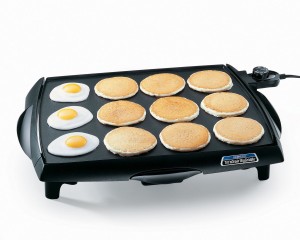 [asa]B00066XROO[/asa]
Presto Electric Griddle 07046 is a jumbo size griddle which can cook more than 50% of any other big griddles available in the market. This griddle from Presto is built with a heavy cast aluminum base with premium nonstick wide enough surface that is sufficient to toast around 12 slices at a time. Besides having its larger capacity the other prominent features of this Presto Electric Griddle are:
Tilt'n Drain feature : Using this feature you can drip out extra fat in the drip tray beneath the griddle surface. This is done by pulling out one of the handles and change your griddle to tilted cooking surface.
Built-in Backstop Support : This is one of the basic and important design factor which most of the manufacturers miss in their products like this. It ensures easy handling of food while cooking especially at the time of turning or dish out.
Cool-Touch Handles : The handles of this Presto Electric Griddle are make cool-touch so that they remain cool all the time while cooking.
Control Master® : Its one of a removable part of this griddle which has to be connected while cooking to maintain the desired temperature automatically and it ranges up to 400 degrees F.
Removable Drip Tray : It lies under the cooking surface and it needs to remove for cleaning purpose when you made the cooking surface tilt to remove extra fat.
To learn more about its working and assembly watch the video below:
Since the cooking surface of this
Presto Electric Griddle
is made with premium nonstick material, therefore its cleaning is very simple and easy. But somehow if it gets darker and difficult to wash then use appropriate detergent with non metal cleaning pad. You may also use dishwasher for cleaning the griddle.
The Presto Electric Griddle is easily available at Amazon Online Store at discount price of $39.88 with Free Super Saver Shipping.