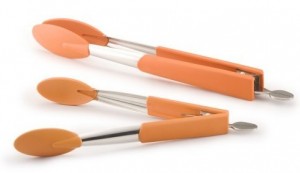 [asa]B000VS7VVW[/asa]
Today we have picked Rachael Ray tong set for a review. This tong set is still rated as the top set when it comes to nylon tongs. Whether you are making hot dogs or grilling in outdoors, you always need these set of tongs for picking and turning food when placed on hot surfaces. These high heat resistant nylon tongs are the way to go. Continue reading below to learn more about this tong set.

The Rachael Ray tong set contains two different sizes of tongs. One is 9 inch long and the other is 12 inches long. The smaller one is mostly suited for day to day domestic use while the larger one is utilized with cooking on large surfaces or at high temperatures such as BBQ or grilling. The tip of these nylon tongs are made of high heat resistant silicone material which will withstand temperatures as high as 500 degree F. The handles are made of easy gripping nylon which can also withstand temperatures up to 350 degree F.
The tips of this Rachael Ray tong set is pointed which comes in handy when you are picking food from corners, these is where most of the flat head tongs fail. Each of the nylon tongs have a locking pin which when pulled will keep the tong heads closed. Great feature for saving some storage space for other cooking tools. The tongs are also dishwasher safe and can very easily be washed by hands.
You can easily buy this Rachael Ray Tong Set from Amazon (with FREE shipping) at a special discount price plus a bonus promotional offer which might end anytime. You can also browse the list of other best selling cooking tools and utensils. The list is updated every hour.