Bakeware pans are generally made nonstick for getting accurate results in baking. The blue steel pans have also a nonstick surface with a shiny blackish-blue coating (see what Blue Steel is?). Some of the nonstick pizza pans are also made of blue steel coating which we are going to review. The pans we have chosen are Rectangular shape Blue Steel Pizza Pans by Paderno World Cuisine. These are the rated as bestselling blue steel pizza pans.
Pan Sizes
The Rectangular shape Blue Steel Pizza Pans by World Cuisine are available in two sizes:
5.75 x 11.825 Inch Blue Steel Pizza Pan
19.625 x 13.75 Inch Blue Steel Pizza Pan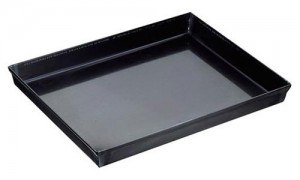 These sizes are appropriate for making large size pizzas for home parties or for large families.
Heat & Moisture Resistant
The blue steel coating is 1/6 inch thick which makes these pans corrosion free and nonstick. This extra thick layer of steel is also designed to bear the maximum heat of the oven, so you don't need to change the pan so often because this kind of pan lasts for a long time.
Uses
These Blue Steel Pizza Pans are not purposely made for pizza; you can even use them for making brownies, sponge cake, fudge, etc. The large rectangular shape pans are best for making large quantities of baked items at one time, rather than baking in small pans multiple times. Therefore, these pans are best for large families and friends to get together.
Where to Buy?
You don't need to worry about the price, the cost of these pans is much lesser than the other bakeware pans. These Blue Steel Pizza Pans are available at your favorite online store; Amazon at reasonable costs
5.75×11.825 inch pan for $22 only
19.625×13.75 inch pan for $35.29 only
This coating is obtained by heating steel elements then the color of the steel starts changing from silver to yellow to blue to red. When cools fast at the blue stage, it will keep its blue color and this is called the blue steel coating.