Ninja Blenders are available at various online and physical stores where people can easily get their desired blending machine. But if the customer is interested in looking for some attractive deals, discount deals and offers then it would be difficult to reach to the desired place, so the question arises Where to Buy the Ninja Blender with best Ninja Blender Deals? Like before we are going to show you some exciting offers and deals for your best Ninja Blender (chose on the basis of customer feedback).
Ninja Master Prep Blender
Ninja master Prep is a series of blender which consists of four different blenders based on their power ratings. These blenders include 200-watt express chop, 400-watt, 450-watt and 450-watt professional models.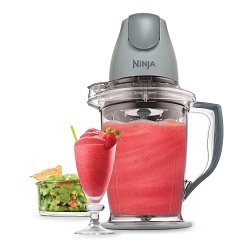 Design Features:
Ninja Blender of this range are designed ergonomically that user can easily handle it. Its No-Slip Base avoids slipping any of its unit and your appliance will be safe and long lasting. Whereas, the Anti-Spill Splashguard keeps you safe from splattering the liquid while blending. In addition, Ninja Master Prep Blender design is not so spacious; its interchangeable Power Pod can be attached to 16-oz chopper bowl, 40-ounce processor bowl, or 48-ounce pitcher.
What Ninja master Prep Blender Does?
This model from Ninja performs all the blending functions in just a matter of seconds. For instance; it can easily crushes ice into snow in seconds, blends frozen fruits into creamy smoothies, and chops fresh ingredients evenly! Ninja provides multiple jars and blades for performing all these functions i.e. mincing, dicing, chopping, blending, and pureeing can be done in the 16 oz or 40 oz processor and chopper bowl, whereas perfect frozen blending can be achieved by using 48 oz pitcher which comes with 450-watt professional model.
The working mechanism of the Ninja Master Prep Blender is based on Pulse Technology for that a large Chrome Pulsing Button is given for ultimate control and consistent results.
What Comes in the Box?
Now you know that this model of Ninja Blender comes with three varieties of processing jars therefore, the whole box consists of following items:
Interchangeable 450 Watt Power Pod
48 oz Pitcher
6-blade set
Pitcher Splash Guard
Pitcher Storage Lid
16 oz Chopper Bowl
4-blade set
Chopper Splash Guard
Chopper Storage Lid
Where to Buy Ninja Blender?
After getting all the knowledge about this ultimate blender you must want to know that Where to Buy Ninja Blender with the best possible discount rate? Here we solve your problem, the 400-watt and 450-watt professional versions of this Ninja Master Prep Blender are available at discount deals. You can immediately get your favorite one from Amazon where 400-watt Ninja Master Prep is available at 20% discount rate while 450-watt Professional version is available for 14% discount.