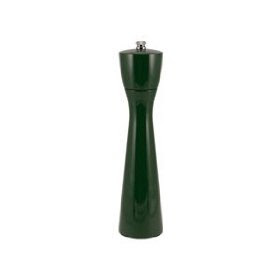 [asa]B001EN0AQQ[/asa]
Features :
– Supreme finish Gourmet 10-inch Wooden Pepper Mill.
– Hand crafted from the hard and finest wood of maple and cherry.
– Effective and easy to use 'Lock n Grind' Mechanism.
– Comes in three colors ( white, forest, mahogany ).
– Adjustable coarseness of pepper, from fine to coarse.
– Interior grinding mechanism easily comes out of wooden case for easy cleaning.
– All Vic Firth salt and pepper mills are prepared in USA.
– Offered a Lifetime Guarantee by Vic Firth.
– FREE shipping to U.S. – Buy Online.
Detailed Description
Nothing seems to please a chef more when it comes to fresh seasoning of either vegetables or spices and this wooden pepper mill by Vic Firth is no different in doing so. It lets you grind peppercorns of your desired consistency and every time you use this tool, you get freshly ground pepper. Some if its useful features are highlighted below :
Elegant Wooden Case
The body of this wooden pepper mill is made of supreme quality wood of maple and cherry that are used for making furniture and top notch musical instruments such as guitars, pianos etc. Hand crafted to perfection and polished for lasting longer, this will surely be the last pepper mill that you would ever purchase.
Easy 'Lock & Grind' Stainless Steel Mechanism
The grinding mechanism system is made of stainless steel keeping in mind durability and ease to cleaning. Grinding the peppercorns in this pepper mill takes place in two steps, in the first step the peppercorns are crushed to release their fresh flavors and in the second step peppercorns are ground to the desired consistency. This all happens inside the pepper mill and you will hardly notice that. The only thing you will notice is freshly ground pepper coming out of the mill.
Choose Your Pepper Consistency
That's right, with this wooden pepper mill, you can set your desired pepper consistency with the help of a small screw on the top. You can select any where from fine to coarse pepper. For example fine grind for fish, medium grind for gravies and coarse grind for meats. Remember that tightening the screw will produce finer pepper.
Grinding Mechanism Pops-Out for Easy Cleaning
Cleaning this pepper mill is very easy. Just open the top nut and remove the top /cap. Then turn the mill upside down and this will pop out the grinding rod by tapping it firmly against a hard surface. Clean the inside of the pepper mill with a piece of dry cloth or a small brush. Now place the rod back in the pepper mill, place the top cap, apply the nut
and you are done.
Lifetime Guarantee by Vic Firth
This product is offered with a life time guarantee by Vic Firth and if this is the first pepper mill you are about to purchase then it will surely be the last too.
Availability and Price
This 10-inch wooden Pepper Mill by Vic Firth is easily available at Amazon (with FREE shipping) for a price just under $50.
Other Pepper Mills :