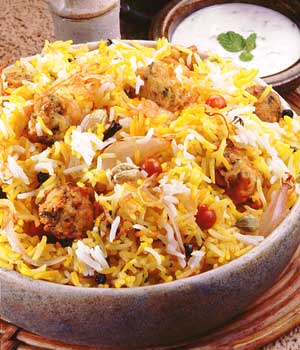 Preparation time : 45 mins. + 3 hrs. marinating time | Serves 4-6 persons
This chicken dum biryani recipe is another addition to our yummy biryani recipes. Here in this recipe of biryani chicken curry is not cooked separately rather than it is marinated first then cooked on steam with rice. If you are using mutton or beef then you will have to add enough quantity of raw papaya paste or meat tenderizer so that meat would cook completely.
Ingredients:
For Chicken:
1 whole chicken (cut into large pieces)
Salt to taste
1 tsp red chilli powder
1 cup yogurt (drained)
2 tbsp ginger garlic paste
½ cup fried onion
1 tbsp garam masala powder
1 tsp cumin powder
1 tsp coriander powder
½ tsp nutmeg and mace powder
½ cup raw papaya paste or 1 tsp meat tenderizer powder
2 cup oil
For Rice:
1 kg long grain rice (soaked for 30 mins.)
2 cinnamon sticks
2 black cardamoms
4 green cardamoms
6 cloves
2 star anise
1 bay leaf
Salt to taste
1 tbsp white vinegar
Water as required (So that water level should be 2" above the rice level)
For Assembling:
2 large tomatoes (thinly sliced)
4-5 green chillies
1 cup chopped fresh coriander and mint leaves
8-10 dry plums
¼ tsp yellow food color dissolve in 1 tbsp of kewra water
Procedure:
1. Marinate chicken with ingredients mentioned for chicken except oil and leave for overnight or for at least an hour.
2. Boil rice with whole spices including cinnamon, star anise, cloves, cardamoms, bay leaves, salt and vinegar. Make sure rice should be ¼ done because it has to be cooked further with chicken.
3. After that take a heavy bottom large pan, heat oil, spread the whole marinated chicken with the marination over the base of pan and then gradually start making layers of tomatoes, coriander and mint leaves, dry plums, green chilies and rice. In the end sprinkle dissolved yellow food color, cover the pan tightly and put it over high heat for 5-8 mins. then reduce the heat to simmer and let it cook for 25-30 mins. till chicken and rice tender completely.
photo source : 1