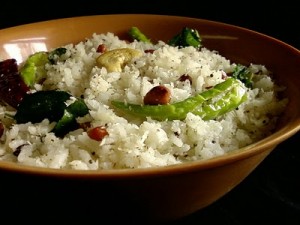 Preparation time : 15 min | Serves 2 persons
This Coconut Rice Recipe is taken form Indian Cuisine; it is prepared with some roasted ingredients like peanuts, cashews, mustard seeds, etc. In some other coconut rice recipes Bengal graham and black lentils are also used to increase its aroma and flavor.
Ingredients:
4 dried red chilies (stems removed and chopped)
4 fresh jalapeno (stems removed and chopped)
2 cup freshly grated coconut
2 cup cooked rice
1 tsp salt
1 tsp mustard seeds
1 stem curry leaves
2 tsp peanuts
2 tsp cashews
½ cup vegetable oil
Procedure:
1. Roast coconut flakes in a pan till become light golden in color.
2. Toss rice with coconut and salt and set aside.
3. In a frying pan fry mustard seeds with curry leaves, when seeds starts splintering add cashew and peanuts and roast till buts become brown (but not black).
4. Toss the rice again with the fried ingredients along with the oil and serve immediately with any curry.
photo source : 1