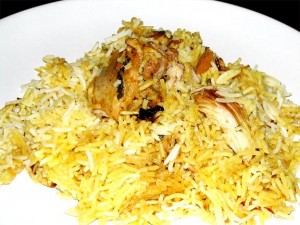 Preparation time : 60 mins. | Serves 4 persons
This easy biryani is prepared in a similar fashion as traditional pulao biryani, its taste is very mild as compared to normal biryani hence become light and suitable for everyone.
Ingredients:
For Stock:
1 kg chicken (large pieces)
15 glasses of water
Salt to taste
5-6 garlic cloves
2 cinnamon sticks
1 tsp cumin seeds
2-3 star anise
2 bay leaves
2 black cardamoms
2 pcs of 1 inch ginger
1 tsp coriander seeds
1 tsp fennel seeds
1 small onion
For Biryani:
1 kg rice rice (soaked in water for an hour)
3 medium onions (thinly sliced)
1 tb ginger garlic paste
3-4 tomatoes (sliced)
¾ cup yogurt
1 tbsp garam masala powder
1 tsp crushed red pepper
1 tbsp green chili paste
½ bunch coriander (chopped)
½ bunch mint (chopped)
Pinch of yellow food color
2 cup oil
Procedure:
1. To prepare stock combine all ingredients with chicken in a large saucepan and let it boil over high flame, then reduce the flame to low and cook till chicken tender and water reduces to almost half.
2. After that discard all the spices from stock and separate chicken pieces.
3. Now take another saucepan and fry onion until become light golden in color, then add chicken pieces and add ginger garlic paste and cook over medium heat for 4-5 mins.
4. Now add tomatoes, salt, red chilli, garam masala powder and cook for till tomatoes become soft..
5. Then add yogurt and cook until oil starts to separate from the gravy. Add prepared chicken stock and let it boil, then add rice with coriander and mint and cook until rice starts to appear on the surface and water gets dry almost.
6. Then add a pinch of yellow food color and mix it well, reduce the flame to very low cover the lid tightly and cook till steam comes and rice gets tender (it would take 15-20 mins.).
photo source : 1