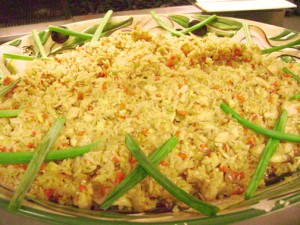 Preparation time : 15-20 min. | Serves 2 persons
This Japanese Fried Rice was inspired by the original copycat Benihana Japanese Fried Rice. Follow the instructions given in the recipe and enjoy the yummy Benihana rice at home.
Ingredients:
2 ½ cups Japanese rice (soak for 30 min)
2 eggs (beaten)
1 medium carrot (finely grated)
½ cup fresh spring onion (diced)
4 tsp soy sauce
½ cup fresh pea (boiled)
4 tbsp oil
Salt to taste
2 tsp black pepper (or to taste)
Procedure:
1. Boil 5 cups of water in a deep sauce pan.
2. Drain water form rice and then add it to the boiled water, the water level should be 1 inch above the rice.
3. Cook for 5-10 min until rice become tender or rice starts to come at the top of water level. Drain all the water from rice and let it cook. You can also cook the rice according to the package instructions.
4. Now take a sauce pan and heat 2 tbsp of oil. Add beaten eggs to oil and make scrambled eggs.
5. When eggs are cooked properly take it out in a plate and add remaining oil in the same sauce pan and fry veggies for just 1-2 min at high heat.
6. Add cooked rice to the veggies and mix well.
7. Now add scrambled eggs and seasoning of salt, pepper and soy sauce to the rice and mix evenly using spatula.
8. When all the ingredients mix well and steam starts to come from the rice, take it out in a serving rice dish and garnish with spring onion leaves.
photo source : 1