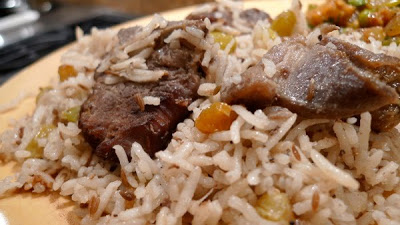 Preparation time : 60 mins. | Serves 6 persons
This pilau rice recipe is one of a famous rice dish from Pakistani cuisine and is prepared in variety of ways for instance; yellow lentils or chick peas are also used in this this pilaf to increase its taste. It is the original mutton pilaf recipe as only meat is used with very little spices. You may also add nuts and raisins in this recipe according to your taste.
Ingredients:
For Stock:
1 kg mutton pieces (with bones)
1 kg rice
1 tbsp ginger paste
1 tbsp garlic paste
1 tsp funnel seeds
1 tsp coriander seeds
1 tsp cumin seeds
For Pilau:
1 cup yogurt
3 medium size onions (julienne)
2 medium size tomatoes (chopped)
4-6 green chilies
1/4 cup coriander leaves (chopped)
2 tbsp mint leaves (chopped)
1 tbsp cumin seeds
5-6 whole black pepper
2 cumin sticks
3 green cardamoms
1 black cardamom
5 cloves
2 bay leaves
Salt to taste
Water for stock
1/2 cup oil

Procedure:
1. Take a deep sauce pan and put ingredients for stock including mutton pieces, ginger garlic paste and salt. Put 3-4 cups of water so that meat pieces would completely dip under water.
Let the stock to cook on medium heat for 45 mins. or until meat would become completely tender.
2. Meanwhile do rest of the work to prepare pilau, at first fry onions in oil with cinnamon, cloves and cardamoms for 5-8 mins. on high flame until onions become light golden in color.
3. After that add tomatoes and half cup of water and let it cook for 2-4 mins. so that tomatoes would become soft.
4. Make paste of yogurt and green chilies in blender.
5. Add yogurt paste, black pepper, cumin, coriander leaves and mint leaves into the onion tomato mixture and cook it on medium heat for just 2-3 mins.
6. When stock is ready drain all the stock water from the meat using strainer and put meat pieces into the onion tomato mixture. Cook it for further 5 mins. with continuous stirring until all the water would have been dried.
7. Now add rice to the meat gravy and stir it well so that rice grains would completely incorporate with the gravy.
8. After 5 mins. add stock water to the rice in such a way that water level should 1 inch above the rice surface and add salt according to your taste.
9. Cook the rice in stock on high flame by covering the lid for 5-8 mins. When water starts bubbling form every side then stir the rice and turn its side up and down carefully and then remove the pan from heat. Place a flat skillet over the stove and put the rice pan with lid onto this skillet. Keep the flame high for just 2 mins and then reduce it to very slow.
10. After 10 mins check weather the rice is soft or not, if it is done then turn off the flame and if not then sprinkle some water on top surface and cook for just 3 mins. on the same slow heat.