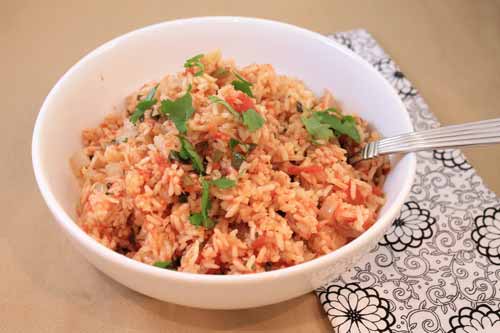 Preparation time: 40 mins. | Serves 2-4 persons
This Tex Mex Rice recipe is one of the famous restaurant rice recipes prepared mainly with tomatoes, green chilies, and herbs. You may also use corn to make this rice as the actual recipe contains corn. However, tomatoes, chilies, and a little seasoning of herbs develop the actual taste.
Ingredients:
1½ cups long grain rice (soaked in water for an hour)
2½ cups tomatoes (diced)
4 tbsp vegetable oil
1 medium onion (chopped)
4 jalapeno pepper (seeded and minced)
1 tsp whole cumin
1 tsp dried oregano
3 cup chicken broth
Salt to taste
Fresh cilantro for garnishing (chopped)
Procedure:
1. Heat oil in a heavy pan and sauté onion in it for just 1-2 mins. until become translucent.
2. Add jalapeno, tomatoes, and salt, cover, and cook until tomatoes become soft.
3. Take out 4 tbsp of the prepared mixture and then add rice, cumin, and oregano and cook rice with the tomato mixture for 2-3 mins.
4. After that, add chicken broth and bring the mixture to a boil over high heat. When the rice appears on the surface and there is no liquid, add the reserved tomato-onion mixture and mix with soft hands. Now reduce the flame to simmer, cover and cook for 10-15 mins. until the rice gets completely tender and steam appears on top.
5. When the Tex Mex Rice is ready, transfer it to the serving platter and garnish with fresh cilantro.