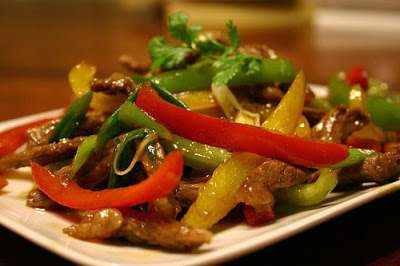 Preparation time : 80 mins + refrigeration time | Serves 4 persons
This beef salad recipe is one of the healthy salad in which sweet peppers are also used to make it a colorful salad. You may also use different colors of pepper in this salad. The dressing of this salad is quite simple and easy to prepare.
Ingredients:
For Salad:
1 cup chopped tomato
1/2 cup yellow sweet pepper (julienne)
1/2 cup red sweet pepper (julienne)
2 tbsp fresh basil
2 tbsp balsamic vinegar
1 tbsp olive oil
1 cloves garlic (minced)
Cooking oil
1/4 tsp black pepper
Salt to taste
For Fried Beef:
250 gm beef (cut into thin strips)
3-4 green chilies (chopped)
1/2 tbsp ginger garlic paste
1/4 tsp turmeric powder
Salt to taste
1/2 tbsp red chili powder
1 egg
2 tbsp corn flour
oil for deep frying
Procedure:
1. Take a mixing bowl and combine tomato, sweet pepper and basil.
2. After that add vinegar, olive oil, and minced garlic clove in the vegetables. jar. Mix well together all the ingredients, cover and refrigerate the mixture for 24 hrs.
3. Marinate beef with, green chilies, ginger garlic, turmeric powder, salt, red chili powder, egg and corn flour. Leave it for at least an hour.
4. Heat oil for deep frying and put the marinated beef pieces into it and fry for at least 5 minutes on medium heat until become crisp. Then take out all the beef pieces from the oil onto a paper towel to drain excess oil.
5. After that mix the fried beef pieces into the vegetable mixture and then serve in a beautiful platter.